Explore
What is included...
A trip to Spike Island Cork is a trip through 1300 years of Irish history —as well as a chance to experience beautiful nature and wildlife in a wild Irish setting. Departing from the historic and scenic seaside town of Cobh, your ticket includes:
The 12-minute return ferry journey across Cork harbour, one of the world's largest natural harbours.
A guided tour on arrival with one of our storytellers.
Self-guided time after your tour to enjoy full access to our fortress and prison—home to over a dozen museums, exhibitions and authentic centuries-old buildings, which showcase our rich past as a monastery, fortress, prison, and island home. See centuries-old prison cells, military emplacement and modern museum spaces, with lots for all ages to enjoy.
Full access to our nature and walking trails—discover the 1.4 km glacis walk with stunning harbour views, or the 2.4 km ring of Spike, which is fully signposted and interpreted as it passes abandoned places like a village or convict cemetery.
A free map to explore our island's waking trails and many interesting areas inside the fort.
A free map for children, to keep little ones busy as they explore the island.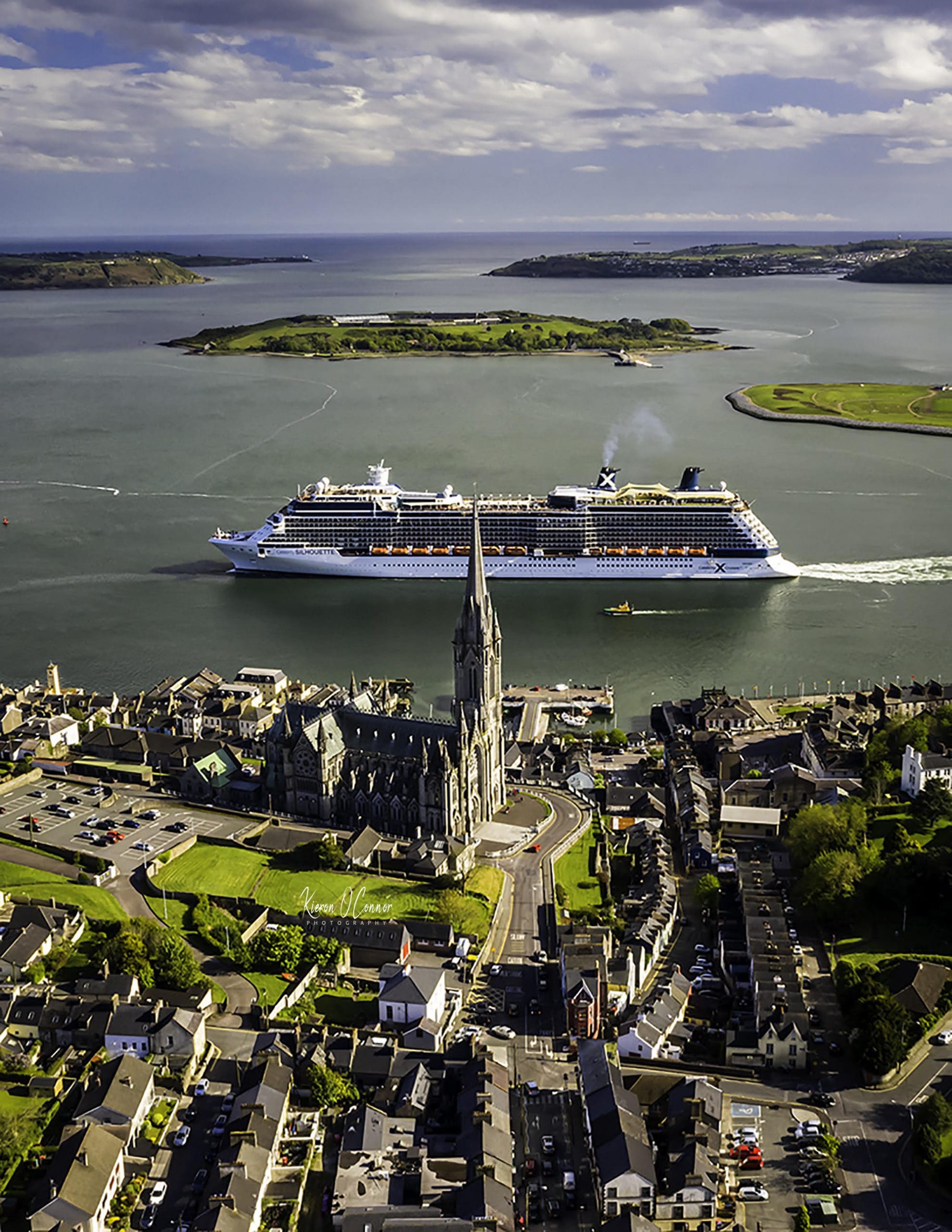 Explore
Augment your experience
There is a café on site selling hot and cold food and beverages, with seating inside and outside.
There are two gift shop locations on the island selling Spike Island and Irish products, including an extensive historic book collection.
An immersive 'Augmented Reality' App can be purchased in advance or on the day—see our history and characters come to life. To download the App click here: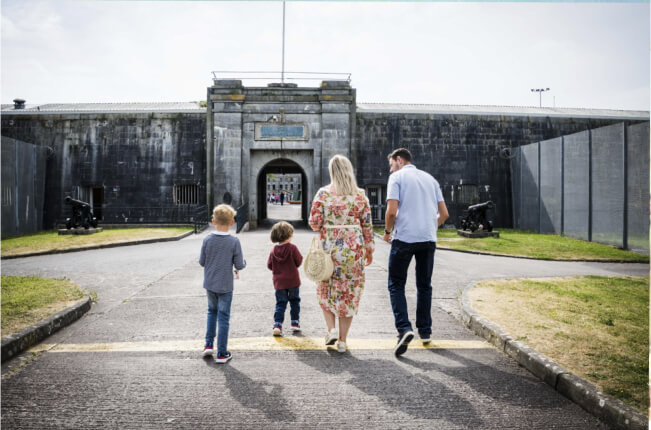 Explore
Ferry journey
Your ticket price includes a seat on one of our comfortable ferries for the short and scenic 12-minute crossing across Cork harbour, one of the world's largest natural harbours.
Enjoy the stunning views of Cobh from the water and keep an eye out for seals, dolphins, and seabirds—your return boat is 3.5 hours later.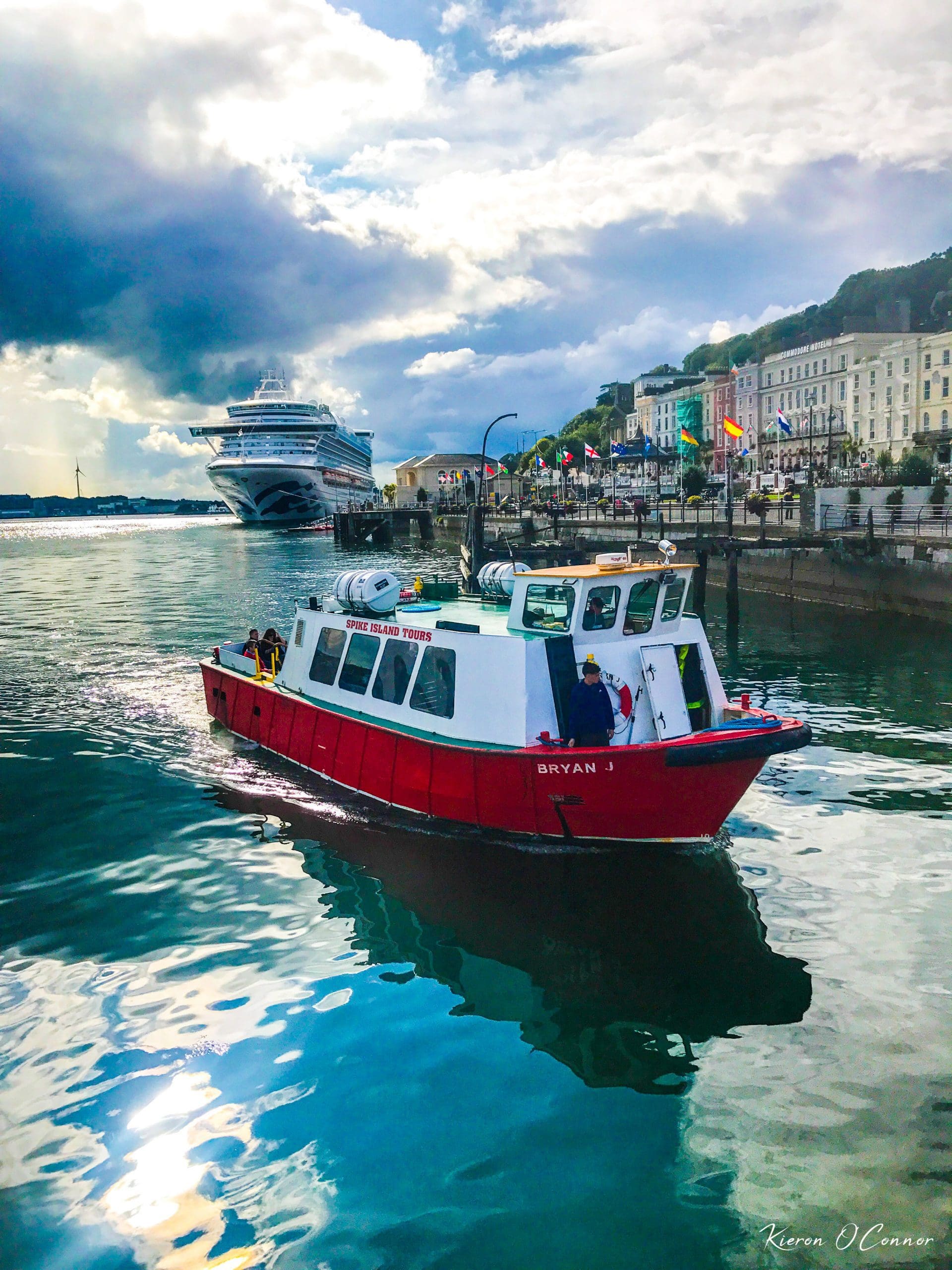 Explore
Guided Tours
Your ticket price also includes a guided tour and island induction, which starts from the ferry arrival point to the Fortress and lasts up to 45 minutes. We highly recommend you take this tour to get an overview of Spike Island's history and how best to enjoy your visit.
Our fully trained storytellers will share the 1300-year history of Spike Island, escorting you from the pier past the island's former dwellings and onto the fort.
Learn all about the island's monastic, military, penal, and social past. You are then free to explore the fort's atmospheric prison cells, impressive military fortifications, internal tunnels and passages. Over a dozen separate exhibitions are also available at your leisure.
Once you explore the fortress, feel free to do one of our two island walkways. Choose between a 20-minute 'Glacis Walk' around our fortress with stunning harbour views, or the 'Ring of Spike' walking trail, a 45-minute walk to see the abandoned buildings and enjoy a spectacular coastline.
Your FREE map will guide you along with signage and informative panels, and why not purchase the augmented reality APP to really bring our history to life?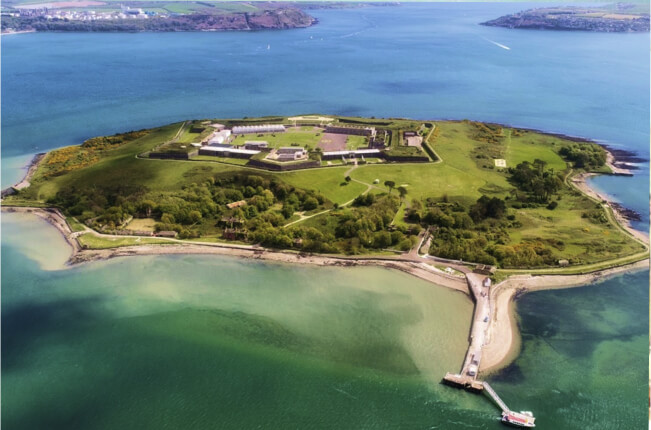 Explore
Augmented Reality App & Audio Guide
Spike Island Experience—Augmented Reality App—has 15 stops spread across the island, making it one of the largest in the world! See our history come to life before your eyes.
For those who prefer more traditional options, we have a selection of audio guides that can be purchased at our ticket office or in our gift shop. They provide a self-guided 16-stop short tour of the 'headline' features of the fort. Available in four languages: English, Irish, French, and German, can be simply switched on with headphones plugged in.
When you approach one of 16 monoliths, look for a number marked out, hit the corresponding number in your audio guide and listen to the story!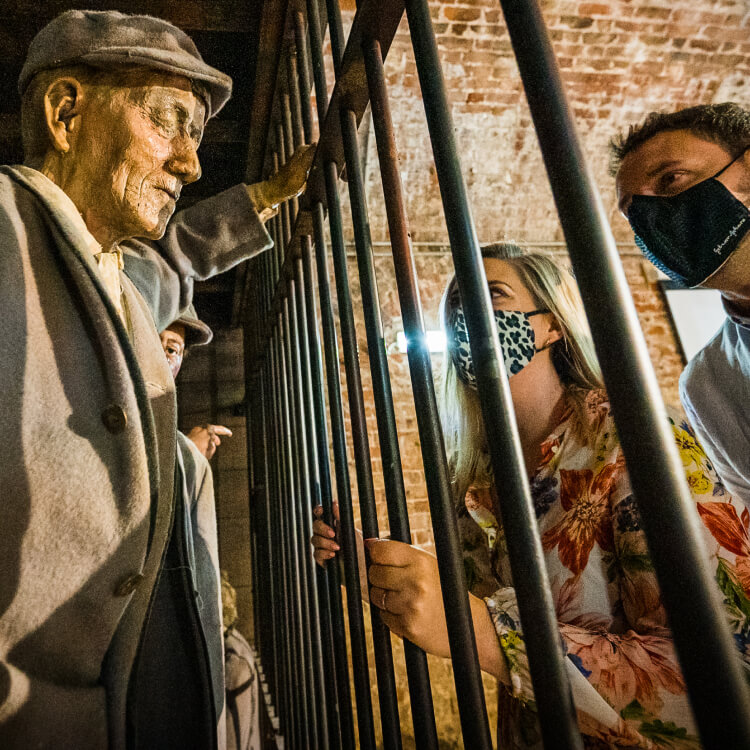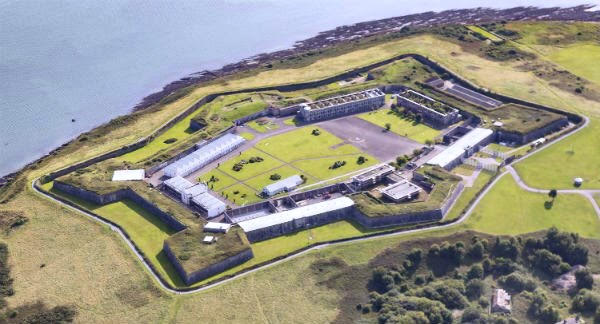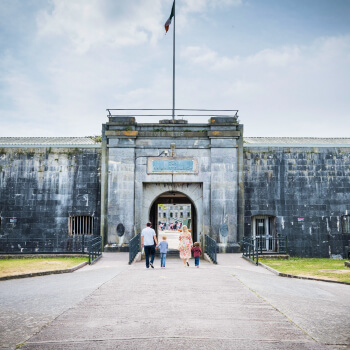 Explore
Self-Guided Tour
Visitors are free to explore the attractions and the island's habitat for themselves.
You can take a self-guided tour straight after a short safety briefing on arrival.  You will be issued with a map to follow its suggested route of buildings and sites (numbered 1 – 12).
With 104 acres of the natural island and a star-shaped fort, make sure to bring your comfortable walking shoes!
However, a guided tour with one of our storytellers is highly recommended!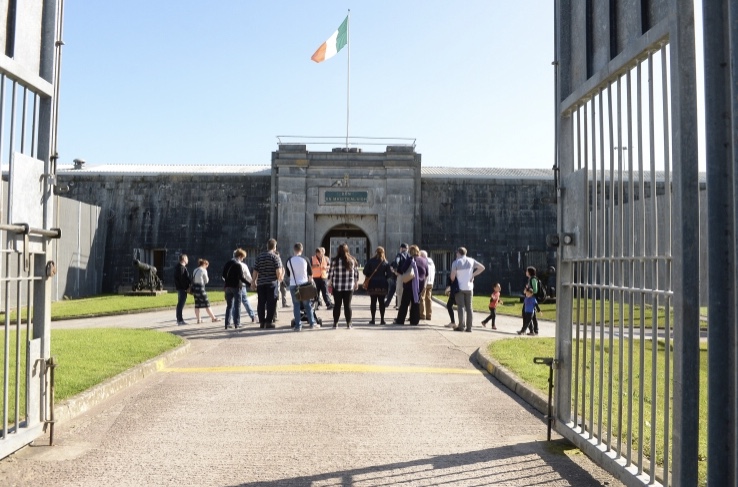 Explore
Café & Gift Shops
Our fully stocked café is housed in the former gymnasium.
It offers a wide range of freshly baked goods, wraps, and sandwiches accompanied by homemade soup.
Vegetarian and gluten-free options are available.
Our two gift shops offer a selection of Spike Island-branded goods, gifts, popular snacks and beverages and even weather gear!
There is a great choice of in-house publications, history and military books.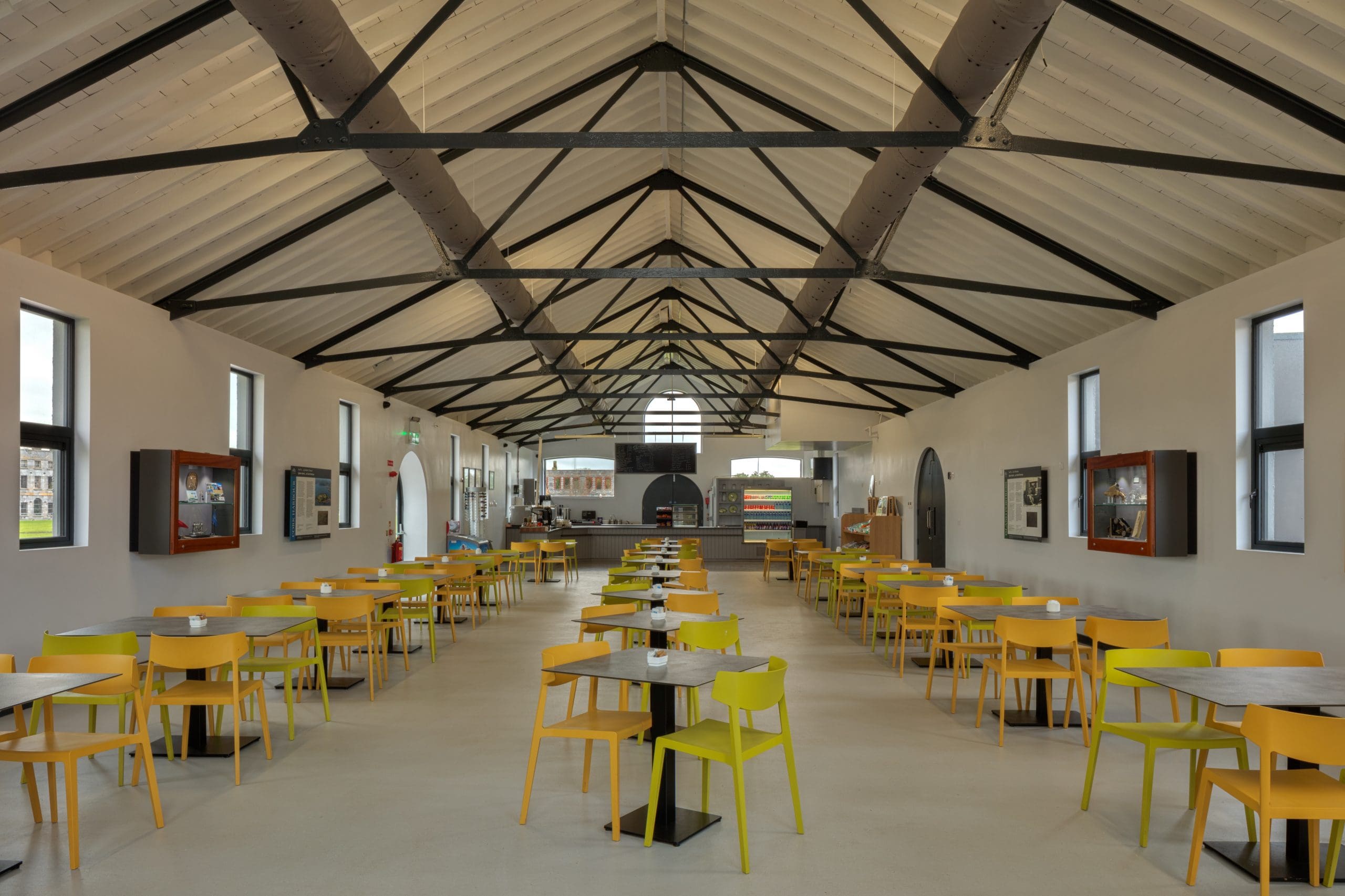 Bernard & Helena McCarthy
Went over to Spike Island during the summer. What a great day out, very interesting place, great walks and a big field if you wanted too chill out or if the kids want to play. It has a shop so you can get food and drinks. You could make a whole day out of it, there was more added to it during the year so cannot wait to go over again this summer, would highly recommend it.
Ireland
Yvonne
We had the pleasure & experience of visiting Spike Island on a day trip the journey from Cobh harbour was by ferry, the crew were great giving information & answering questions. Our tour guide was brilliant, an ex navy man himself, spent time with all. He really got across the history of Spike and we will definitely go again.
Ireland
Caroline D
Great Tour of the Island. My Family and I visited Spike Island (February) and we all found it very interesting. The trip on the ferry accross was great and it was a dry day. We found it very interesting and for history lovers it is a great place to go. The views of Cobh from the Island are magnificent.
Cork
John B
I went to Spike Island recently and found it totally amazing with the history and the heritage of the island. It's a great place to visit and the tour is great. If in Cork then it should be high on your list of places to go. Highly recommended.
Cork
Claire T
Very impressive! It was our second time here and well worth the trip. Lots of interesting information presented with a touch of Irish humour. We'd strongly advise everyone to go there, it's a great day out! You can take the island in at your own pace or join a guided tour. It's a brilliant opportunity to see all of Cork harbour.
Ireland
Kenny & Lisa
Both for history and nature enthusiasts. Be sure to catch the free guided tour that is included in your ticket. Our guide was very skilled and made the history come alive through stories he told.Also take the time to explore the island and enjoy the view of Cobh from a different perspective. Take a walk around and take in the beauty of the nature and the island as a whole!
Brussels, Belgium
Trish
Amazing, a hidden gem! Must-see.
Myself and my husband visited Spike Island today and although we both live in Cork we had never been. It was absolutely brilliant and would highly recommend. Our guide was excellent, so knowledgeable and funny! Time flies so we will definitely be back and will also do the After Dark tour too. I would never get sick of visiting and feel it is the kind of place you could visit over and over and still see and learn new things.
Cork
Rose
Spike Island is well worth a visit. The scenery is beautiful, even for a walk, it is worthwhile to go and see. The tour
guide was excellent too and we enjoyed it all. You could easily spend a few hours here, a great way to spend a day and very affordable too. It is advisable to book the ferry beforehand, it is a popular spot.
Boston, Massachusetts, USA
Explore
What's Here
In the last 1300 years Spike Island has been home to heroes and villains, captains and convicts, red coats and rioters and sinners and saints. The islands impressive 104 acres have at one time or another hosted an Island monastery, an Island prison, an Island fortress and an Island home.
Today visitors can discover the islands impressive 104 acres with tours departing from Kennedy pier, Cobh, Cork Harbour, which is right next to Titanic Cobh.
Cobh itself is a beautiful heritage town steeped in history, with one of the largest cathedrals in Ireland. Cobh was also the departure point for over 2.5 million Irish emigrants, the single large departure point in the country.
A scenic 10/20 minute ferry journey gives visitors an overview of the history and heritage of Cobh and Cork harbour and sets the scene for a visit to Spike.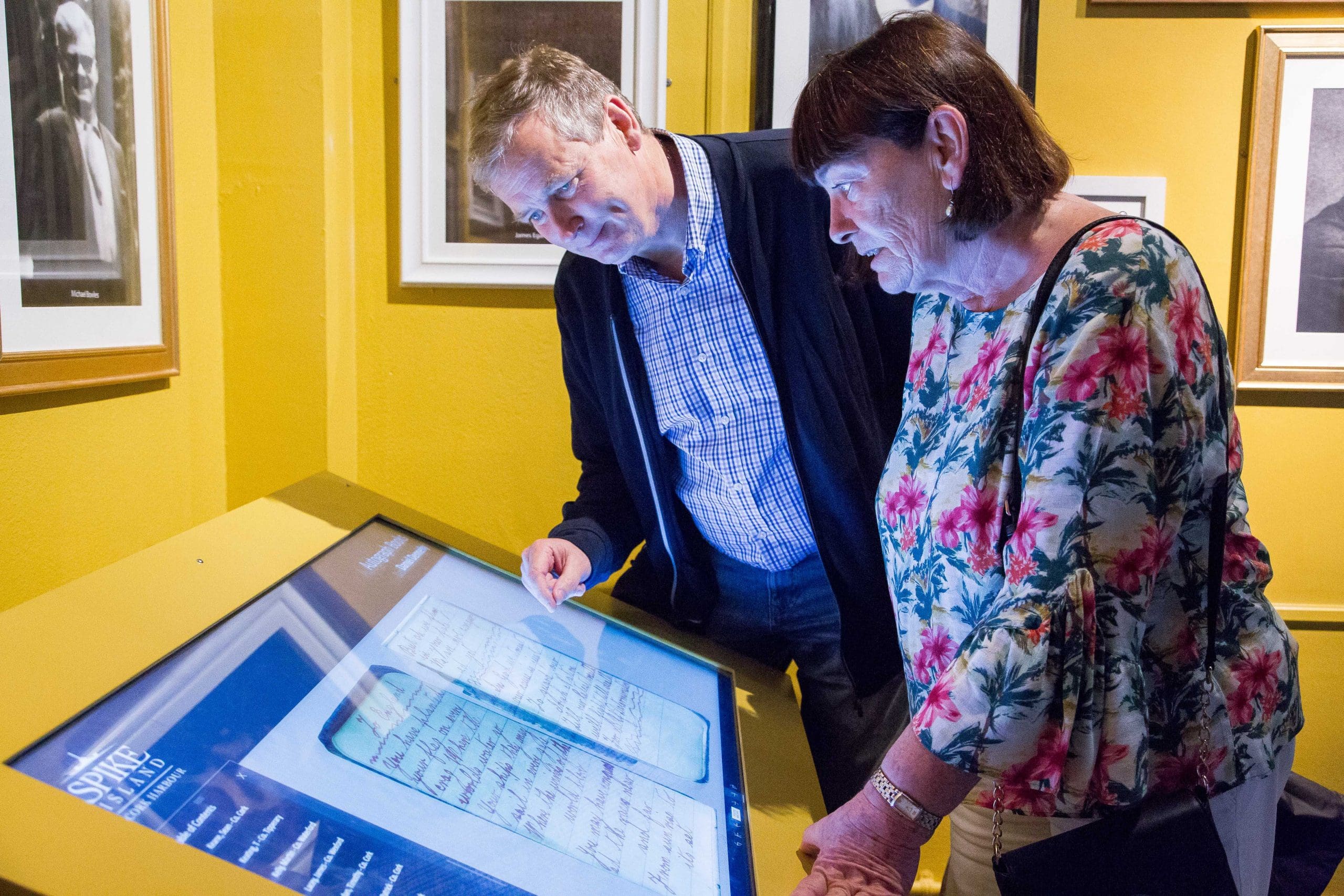 Explore
Our Tours
Then it's on to the imposing 24 acre Fortress Spike, a 200 year old star shaped fort that holds some of the most impressive buildings in Ireland, including;
The Punishment Block, an 1858 prison where inmates were chained to the wall in dark cells.
The 1985 cells, which housed modern prisoners in 4 man cells and included famous inmates like Martin Cahill, orchestrator of a 40 million Euro art heist in Dublin.
Irelands largest Artillery Gun Park, with cannons and modern military machines.
Walk the deep and narrow tunnels to our 6'' harbour defence guns, the largest in Ireland.
Our former childrens prison conversion to the hold of a convict ship, our social history room, the John Mitchal room and our interactive display of Cork Harbour.
Former church Mitchel hall, which houses temporary art exhibitions.

Scale the points of our start shaped bastions to get incredible views of Cork Harbour and Cobh.

Meet and talk to our trained guides who can give you all the information you need about Spike Island and how it has influenced many corner of the world.

Finally walk the beautiful outer island with rich nature and wildlife and incredible mainland and sea views.