See the island in a different light!
After Dark
EXPLORE AN ABANDONED PRISON, WALK THROUGH A TUNNEL OF DARKNESS, EXPERIENCE A PLACE OF PUNISHMENT, ONCE CALLED – "IRELAND'S HELL"
Do you dare to visit Spike Island After Dark?
For the first time this Autumn, the Spike Island After Dark tours will be running over the Halloween season, adding an extra layer of spookiness to your experience!

Explore  the haunting corridors of an abandoned prison, find yourself in the heart of solitary confinement, and immerse yourself in a place once infamously known as 'Ireland's Hell' on this access all areas tour.

Not for the faint-hearted, our After Dark tours take you to areas of the island usually off limits to the public where our tour guides will share the harrowing history and spine-chilling stories of Ireland's most notorious murders and deviants. Prepare to be led through eerie tunnels, abandoned prison cells as you hear the dark tales of murder and mystery on this candlelit tour.

What better way to spend the Spooky Season than by delving into the dark and disturbing history of Ireland's most notorious prison island? Brace yourself for the ultimate Halloween thrill!

Will you escape from Spike Island this Autumn? There's only one way to find out, book your tickets now if you dare and join us for a night you'll never forget as we unravel the eerie mysteries of Spike Island!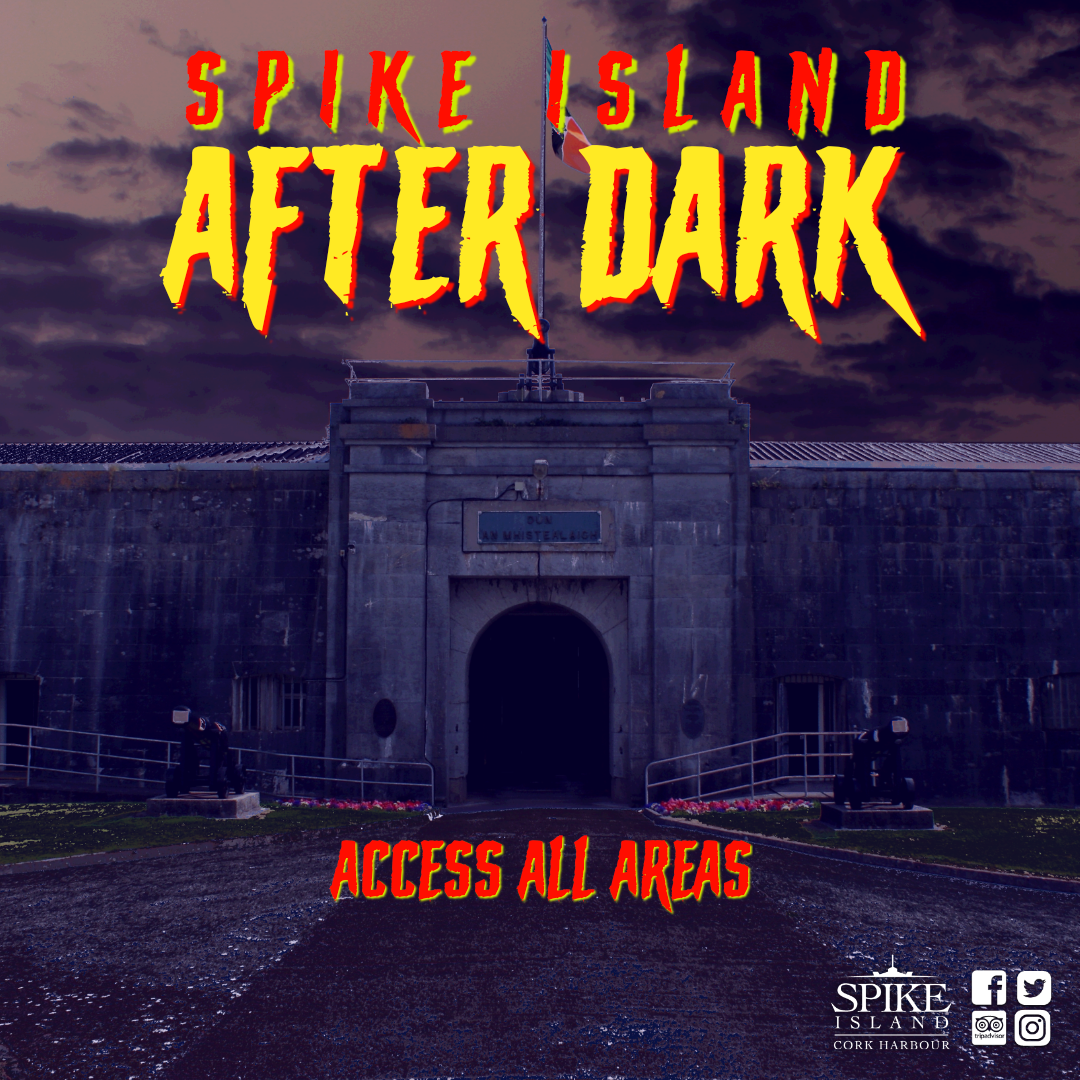 Explore
Our frightening history
But there is another side to this often dark and dangerous place that we do not tell to any day tour. A sombre and frightening history about prison life that is not for the faint of heart.
Join us on one of our Spike Island After Dark' tours to learn about the chilling history that haunts this beautiful island habitat. Hear about the horror of the convict's treatment when Spike was the world's largest prison, back in the 1850's.  The Punishment block, a prison built with the sole purpose of punishing human beings, was created at this time. Its dreadful conditions include the dark cells which hold many memories.
You will hear about the mass graves that litter this beautiful island, the result of foul conditions and overcrowding during the worst of the famine years. These forgotten restless souls sit in unmarked graves under the islands lush grasslands, victims of an unfair time.
Explore
The Islands beauty
The islands beauty did not spare it from the worst of human nature, and you'll hear the stories of murders that took place, like that of nationalist Patrick White who was killed in a spiteful act of revenge by his keepers.
We talk about the brutal murder of a prison warder in the 1800's, a event carried out by some of the many dangerous characters who were imprisoned on Spike.  Those offending were sent to the Punishment block, sitting chained to the wall in their cells, covered head to toe in black save for 2 slits for eyeholes.
Your tour will include you to areas no day tour are allowed to see, as we walk abandoned prisons and solitary cells that are sure to chill and excite.
The islands fame has seen regular visits from TV crews, with the Discover Channel series 'Legendary Locations' and US TV show 'Destination Fear' devoting episodes to the location.
Now it's your chance to visit the island and discover for yourself. Do you dare to visit Spike Island After Dark?
Bernard & Helena McCarthy
Went over to Spike Island during the summer. What a great day out, very interesting place, great walks and a big field if you wanted too chill out or if the kids want to play. It has a shop so you can get food and drinks. You could make a whole day out of it, there was more added to it during the year so cannot wait to go over again this summer, would highly recommend it.
Ireland
Yvonne
We had the pleasure & experience of visiting Spike Island on a day trip the journey from Cobh harbour was by ferry, the crew were great giving information & answering questions. Our tour guide was brilliant, an ex navy man himself, spent time with all. He really got across the history of Spike and we will definitely go again.
Ireland
Caroline D
Great Tour of the Island. My Family and I visited Spike Island (February) and we all found it very interesting. The trip on the ferry accross was great and it was a dry day. We found it very interesting and for history lovers it is a great place to go. The views of Cobh from the Island are magnificent.
Cork
John B
I went to Spike Island recently and found it totally amazing with the history and the heritage of the island. It's a great place to visit and the tour is great. If in Cork then it should be high on your list of places to go. Highly recommended.
Cork
Claire T
Very impressive! It was our second time here and well worth the trip. Lots of interesting information presented with a touch of Irish humour. We'd strongly advise everyone to go there, it's a great day out! You can take the island in at your own pace or join a guided tour. It's a brilliant opportunity to see all of Cork harbour.
Ireland
Kenny & Lisa
Both for history and nature enthusiasts. Be sure to catch the free guided tour that is included in your ticket. Our guide was very skilled and made the history come alive through stories he told.Also take the time to explore the island and enjoy the view of Cobh from a different perspective. Take a walk around and take in the beauty of the nature and the island as a whole!
Brussels, Belgium
Trish
Amazing, a hidden gem! Must-see.
Myself and my husband visited Spike Island today and although we both live in Cork we had never been. It was absolutely brilliant and would highly recommend. Our guide was excellent, so knowledgeable and funny! Time flies so we will definitely be back and will also do the After Dark tour too. I would never get sick of visiting and feel it is the kind of place you could visit over and over and still see and learn new things.
Cork
Rose
Spike Island is well worth a visit. The scenery is beautiful, even for a walk, it is worthwhile to go and see. The tour
guide was excellent too and we enjoyed it all. You could easily spend a few hours here, a great way to spend a day and very affordable too. It is advisable to book the ferry beforehand, it is a popular spot.
Boston, Massachusetts, USA