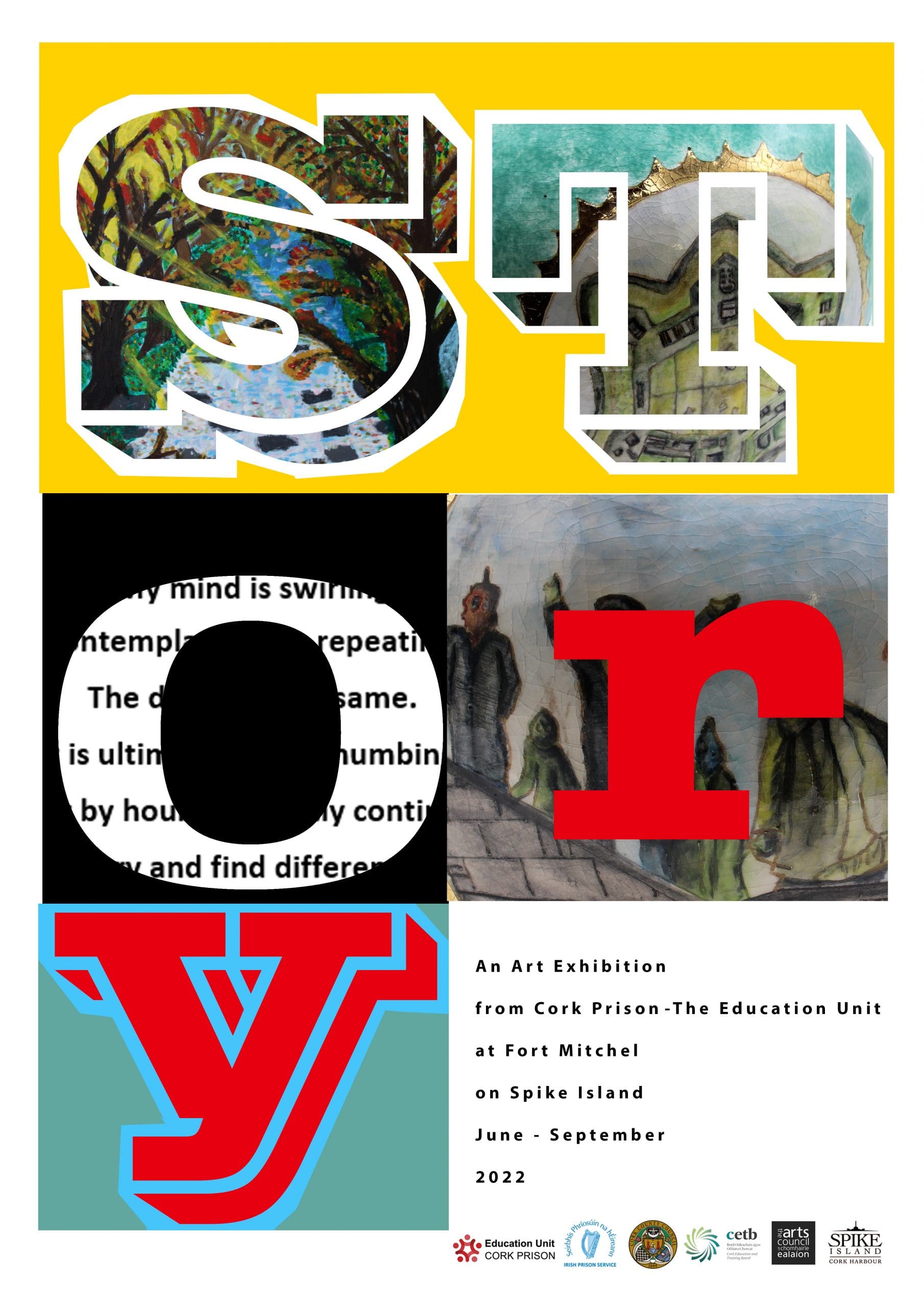 'Story' is an exhibition reflecting on memory and circumstance. Each Artwork features a personal narrative reminiscing on anecdotes and memoirs. The work extends from the ghostlike anonymity of portraits symbolizing invisibility and absence of identity, to the haunting inner monologue caught in a cycle of repetition and the effort to untangle.
The Artworks depict intimate accounts from one seminal event, consumed with rebellion that influenced a lifetime of crime, to the childhood memories that form a conduit for escapism channelling the imagination into a brighter world. 'Story' is a selection of work curated by the Education Unit in Cork Prison designed to give agency to the student's narrative through memory and reflection.
These are their stories……
"
My paintings are stories about memories and places I grew up around as a child. I still fish there when I get a chance, nothing much has changed only that it is all overgrown now. I love going to those places because it takes me away from the city and into Nature, I feel relaxed and at peace when I am there. All my Paintings are from memory, they tell stories about my childhood and my visits as an adult. When I'm painting, I can imagine things that I would like to see there. I often use bright colours to enhance the mood of the picture as they are my expression of the natural world.
"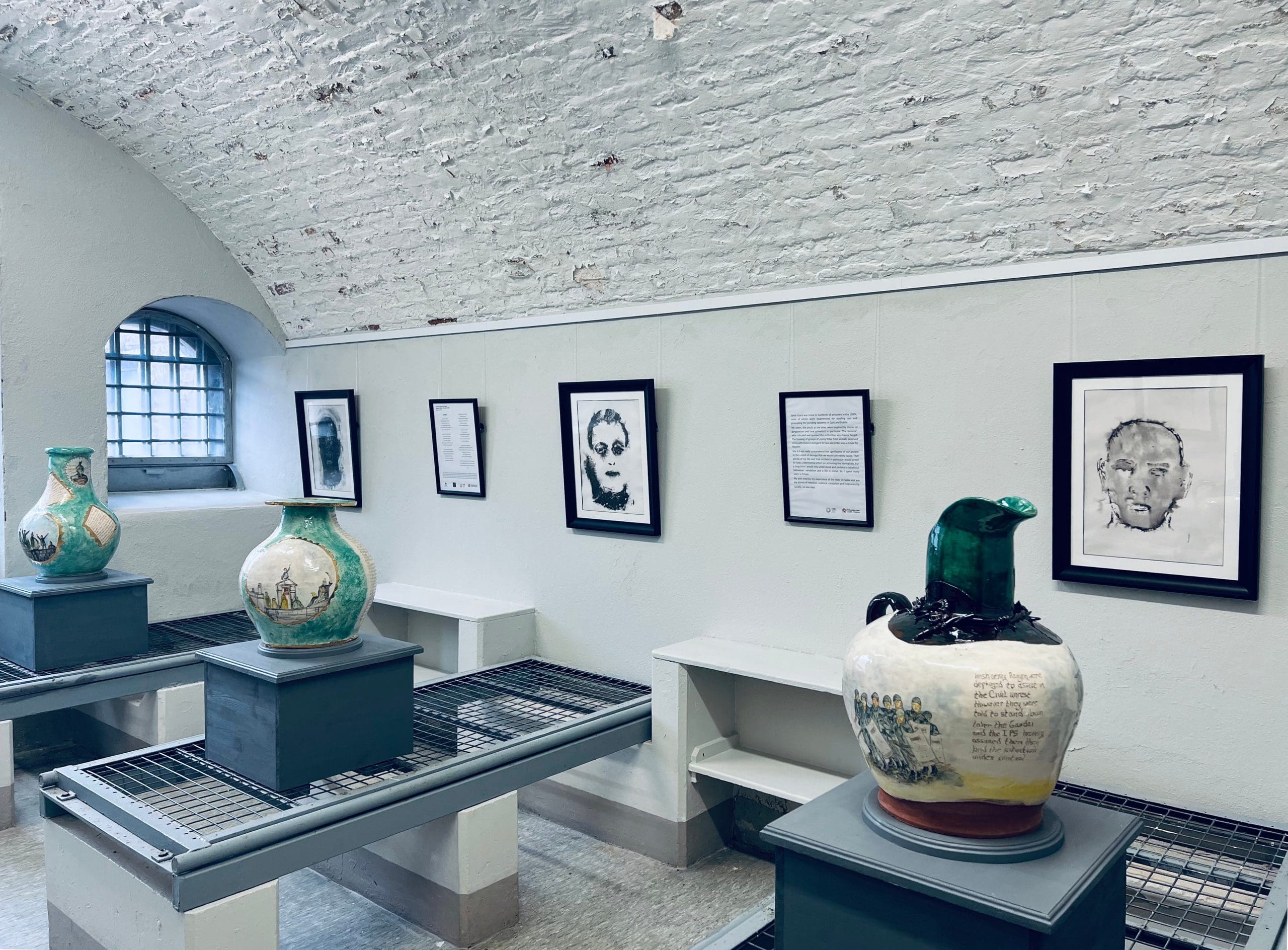 Spike Island was home to hundreds of prisoners in the 1980s, most of whom were incarcerated for stealing cars and generating the joyriding epidemic in Cork and Dublin. My peers, the youth at the time, were inspired by stories of gangsterism and one crimelord in particular 'The General', who ridiculed and taunted the authorities any chance he got. The housing of groups of young fellas from socially deprived areas with blatant disregard for law and order was a recipe for disaster. We did not really comprehend the significance of our actions or the extent of damage that we would ultimately cause. That period of my life and that incident in particular would prove to have a detrimental effect on achieving any normal life. For a long time I would only understand and partake in rebellious behaviour, vandalism and a life in crime. So, I spent many years in Prison. My pots express my experience of the riots on Spike and are my stories of rebellion, violence, vandalism and total anarchy.
Luckily, no one died.
---
LISTOWEL WRITERS IN PRISON
Category: POETRY: GETTING STARTED
Result: 1st Place
The Listowel Writers in Prison Competition is an eagerly anticipated event on the Education Unit calendar every year. Having previously achieved second place in the Short Story category in 2020 this student attended the Creative Writing class in the Education Unit and began his journey into poetry writing. A natural writer with great aptitude he produced three pieces and achieved 1st place this year with his Sestina "Untangling".
"Untangling"
My mind is swirling
Contemplating the repeating.
The day is all the same.
It is ultimately mind numbing.
Hour by hour constantly continuing
to try and find differences.
Are there any differences?
So I now sit here swirling.
All the time continuing
at all of the repeating.
The relentless constant numbing
Why are the days the same?
How is it they're the same?
And that there are no differences
Trying to release this numbing
Untangle this swirling
To iron out this repeating
that keeps on continuing.
Thinking always continuing.
Thoughts the same.
Thinking about the repeating.
Working out the differences.
Still there is swirling
and uncontrollable numbing
What is the numbing?
Is it continuing?
The untangling of the swirling.
It is in fact not the same
that there are some differences.
Is it really? Repeating.
No! There is no repeating.
Getting feeling where there was numbing.
Finding in the day, there are some differences.
Realizing in my continuing,
that nothing is the same
and now I've stopped swirling.
From my swirling, that it's not the repeating
or it being the same that causes the numbing
but the continuing and finding of differences.
by: PH
---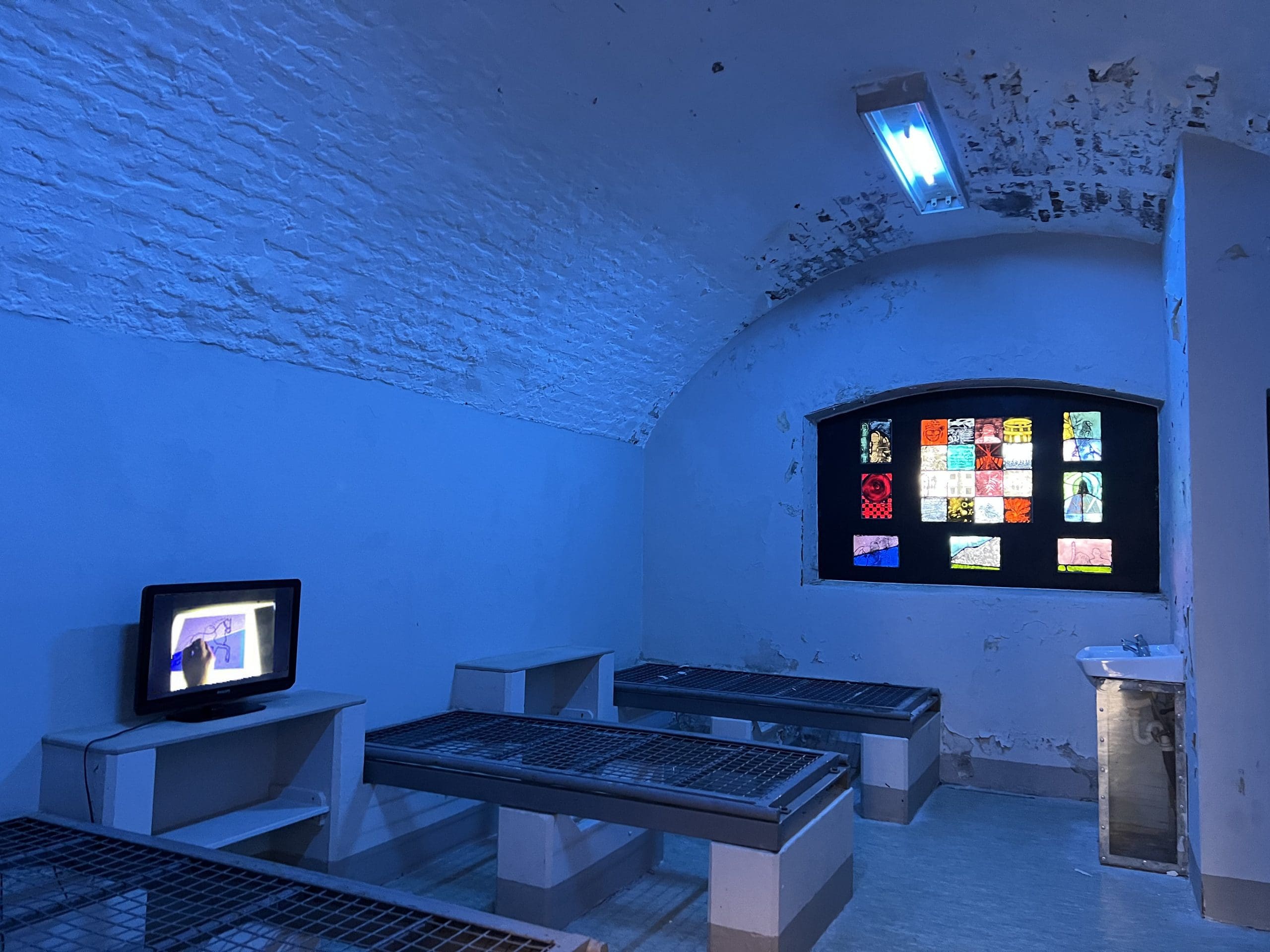 This stained-glass window was produced in the Education Unit in Cork Prison with the support of The Arts Council and the Visual Artists in Prisons Scheme. It was facilitated by the artist in residence Debbie Dawson in 2018.
Education is collaboratively delivered in Irish Prisons through the Irish Prison Service and the Education and Training Boards. There has been an ongoing association between the Education Unit and Spike Island for many years.
The Education Unit Cork Prison has been exhibiting on Spike Island on an annual basis since 2012. Some of our students in Cork Prison who worked on this panel had been incarcerated on the island.
The Education Unit presented this artwork to Spike in 2018 to commemorate this continuing partnership. This stained-glass window is currently on permanent display in one of the 1990s prison cells on Spike Island.
To find out more about the Education Unit Cork Prison visit:
https://www.corketb.ie/about-cork-etb/further-education-training-f-e-t/education-service-cork-prison/
https://www.tg4.ie/en/player/play/?pid=6310075341112&title=Nuacht%20TG4&series=Nuacht%20TG4&genre=Cursai%20Reatha&pcode=627182

---