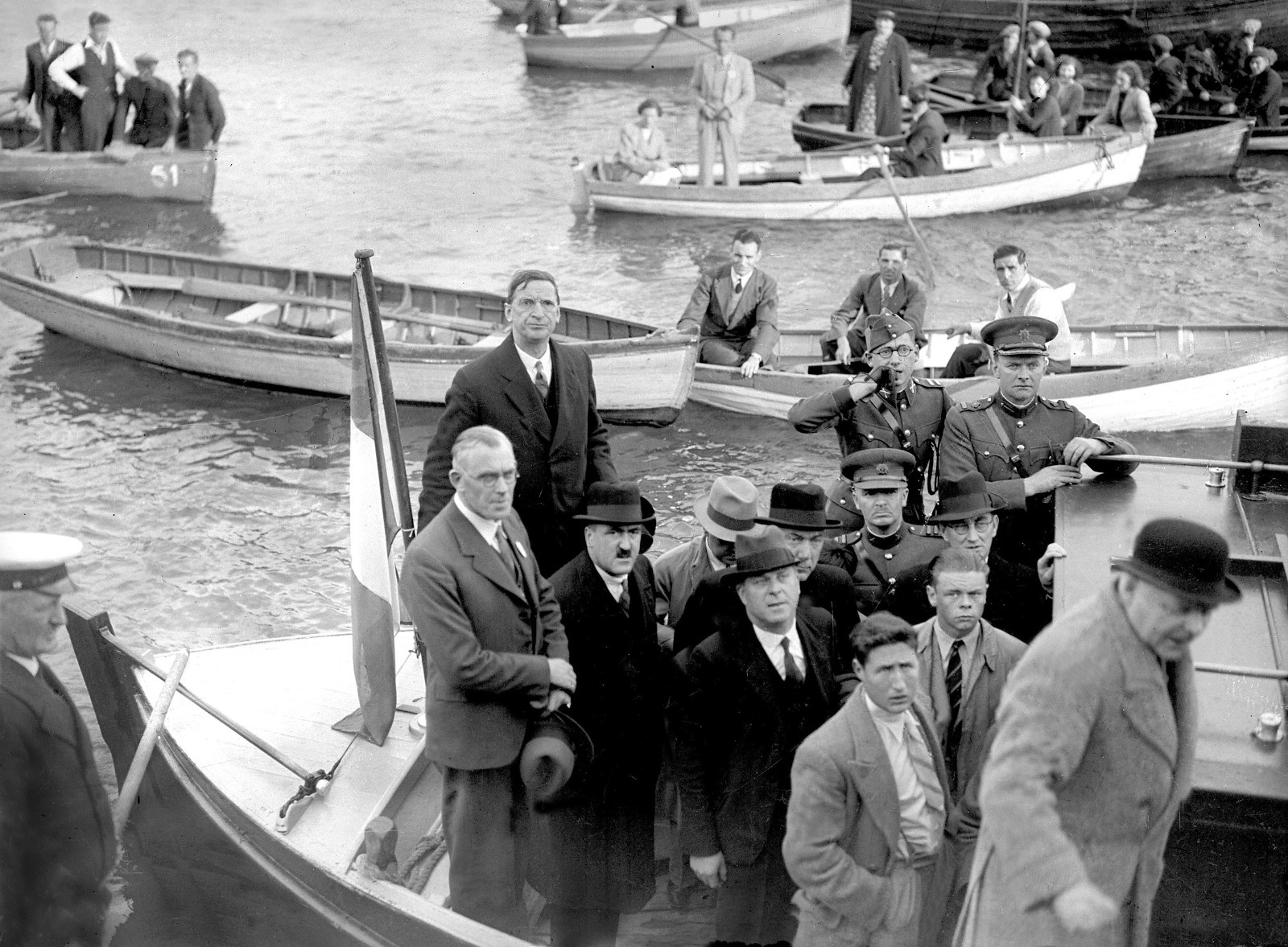 Ireland secured freedom from Britain in 1921 with the signing of a truce after a hard fought and bitter War of Independence.  There were difficult conditions attached to the truce which were the painful price of freedom.  The most famous was the separation of Northern Ireland and its six counties into a region loyal to the United Kingdom, but another concession insisted upon by the British was the retention of what became known as the 'Treaty ports' at Bere Island, Lough Swilly and Spike Island.  The supreme military importance of Spike Island was not lost on Winston Churchill who had visited the island on an inspection trip to Haulbowline in 1911, as the then head of the admiralty.  During World War I Cork harbour was a vitally important base for the American destroyer fleet when they joined the war, with as many as 35 destroyers being supported by many other military vessels.  Churchill fought tooth and nail to retain this vital military location which added hundreds of kilometres to the capable defences of Britain.  He was succesful in 1921 and a British military presense remained on the island for another 17 years.
A trade war broke out between Ireland and Britain during the 1930's and then President Eamon Devalera negotiated a settlement.  This included the return of Spike Island and its fort from British to Irish control, a condition passionately opposed by Winston Churchill who described Spike Island and the other treaty ports as;
"The sentinel towers of the defences of western Europe".  
He was overlooked and July 11th 1938 was set as the handover date.  An Irish army contingent sailed to the island and saw the British flag lowered.  The event is recalled here in a 1985 interview with Lieutenant Colonel Jack Griffin.  Eamon Devalera refused to travel to the island until every single British solider had left, his time in English prison cells likely weighing on his mind.  He travelled to the island with a delegation in the evening and watched the tri-colour raised over the island and Cork harbour for the first time.  Ireland grew just a little larger in size that day but infintely larger in stature, and the return of the island without a shot being fired was hailed as a great act of diplomacy by DeValera.  The return of the island not only boosted national pride, it also saved Cork harbour from the menance of German bombardment with the outbreak of World War 2.
The military asset was far from the protection of the RAF and it would have made an easy early target for destruction by the Lufwaffe.  Cobh and Cork harbour was also part of an invasion plan of Ireland drawn up by Germay entitled 'Operation Green', where fast moving launches would quickly land 10000 men and move inland.  Had the fort remained in British hands the justification for such an invasion may have been far more prevalent.
A crowd of 40000 had gathered in Cobh and their cheers filled the harbour in an event fondly recalled by those who attended.  A letter below details the event from the perspective of one of the attendees on the day;