Following on from the success of our inaugural event in 2022, the Spike Island Literary Festival makes a much-anticipated return from Friday 18th to Sunday 20th August 2023.
Dedicated to the popular theme of crime writing, the festival takes place on a unique island location with a dark history of four prisons over 400 years – the perfect setting for literary enthusiasts from book lovers to budding writers.
Engage with your favourite authors and discover what inspires them through author-led panel discussions, experience pop-up readings as some world-class writers recite their most famous works in unique locations, enjoy special performances or take the first steps to getting your own work published by meeting with a renowned literary agent.
This year's programme features a stellar line-up of renowned authors such as Alice Bell, Sam Blake, Amanda Cassidy, Tadhg Coakley, Cónal Creedon, Amy Cronin, Catherine Ryan Howard, Arlene Hunt, Catherine Kirwin, Andrea Mara, Michelle McDonagh, Kitty Murphy.
There are many event formats to choose from during the festival:
Panel Interviews – In a series of panel discussions led by author Michelle Dunne, a number of Ireland and the UK's foremost thriller writers will reveal their writing methods, inspirations and the process of developing unforgettable characters.
Author readings – Throughout the festival, pop-up readings by some of your favourite authors will take place in unique locations around the island, from dark tunnels to haunting prison cells.
Meet the Agent – Submit the first three chapters of your next work in advance and receive feedback and advice from the industry insiders.
In addition, visitors will enjoy a short guided tour on arrival with a focus on the darker tales from Spike Island's storied past. Join us this August and immerse yourself in a world of suspense, mystery and intrigue as some of Ireland and the UK's foremost authors descend on our historic island.
---
Sponsored by Cork County Council, Bella Vista Hotel, Commodore Hotel, Fota Island Resort, Titanic Bar and Grill, Trigon Hotels.

---
---
Programme of Events
---
---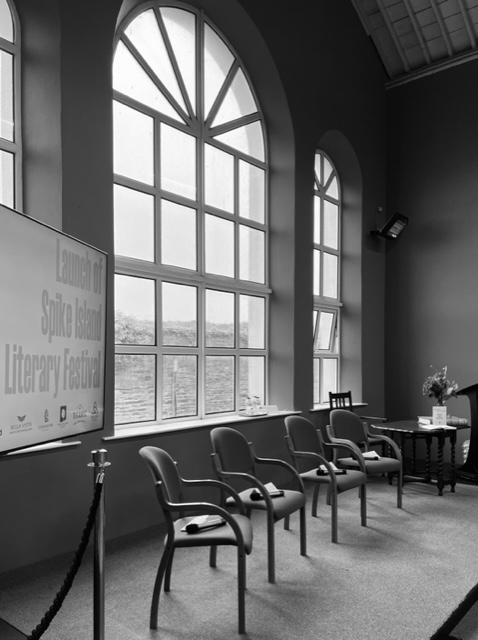 18 AUGUST | FRIDAY AFTERNOON
Launch of Spike Island Literary Festival
Price per ticket: €26
Boat in: 1:30pm – Return: 4:30pm
Storytelling, music and song intertwine as two much-loved Cork writers – author Cónal Creedon and singer-songwriter John Spillane – come together for a very special performance to launch the 2023 Spike Island Literary Festival on Friday 18th August.
The longtime friends and collaborators have made significant contributions to the artistic and cultural heritage of Cork and their renowned works including Follow Your Nose and Princes Street resonates with audiences both locally and beyond.
---
18 AUGUST | FRIDAY EVENING
"A Mind for Murder" (Panel)
Price per ticket: €26
Boat in: 5pm – Return: 8pm
Cork author Michelle Dunne will be joined by a panel of some of Ireland's foremost thriller writers on Friday evening. Gain unique insights into what inspires authors Kitty Murphy, Arlene Hunt and Amy Cronin in what promises to be an intimate and conversational event which delves into the minds and writing methods of these acclaimed authors.
On arrival, visitors will enjoy a short guided tour with one of Spike Island's expert storytellers followed by time to enjoy refreshments in the cafe prior to the event.
---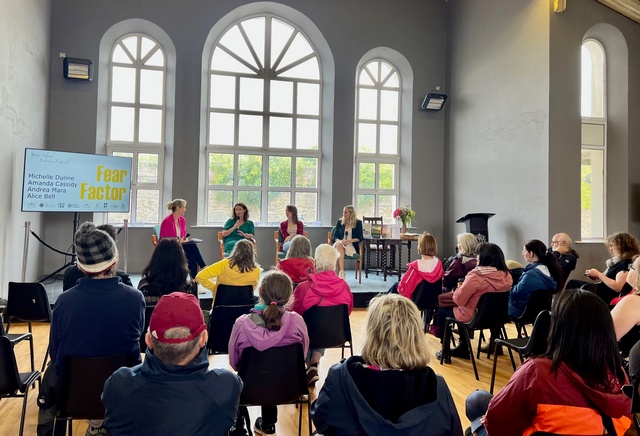 19 AUGUST | SATURDAY AFTERNOON
"Fear Factor" (Panel)
Price per ticket: €26
Boat in: 12:30pm – Return: 4pm
Crime writers Amanda Cassidy, Andrea Mara and Alice Bell join forces in a panel discussion with Cork author Michelle Dunne to share insights into what inspired their most famous works.
On arrival, visitors will enjoy a short guided tour to the fort with one of Spike Island's expert storytellers.
Pop Up Readings
Throughout the day, authors such as Tadhg Coakley, Michelle McDonagh, Amy Cronin and Tom O'Neill will perform pop up readings in unique locations throughout the island. Hear segments from your favourite novels directly from the authors themselves in dark tunnels, eerie prison cells and more.
---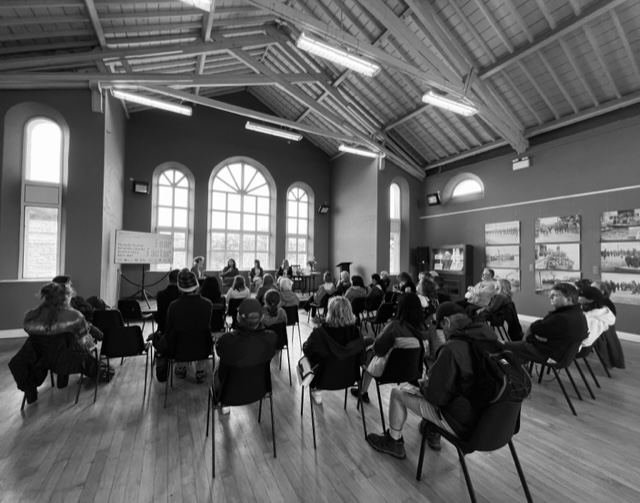 19 AUGUST | SATURDAY Evening
"Thriller Killer" (Panel)
Price per ticket: €26
Boat in: 5pm – Return: 7:30pm
Two of Ireland's best-selling crime writers Catherine Ryan Howard and Sam Blake discuss the makings of a successful thriller and what inspired their own novels in a thought-provoking, intimate discussion.

On arrival, visitors will enjoy a short guided tour with one of Spike Island's expert storytellers followed by time to enjoy refreshments in the cafe prior to the event.
---
20 AUGUST | SUNDAY AFTERNOON
"Murder by the Book" (Panel)
Price per ticket: €26
Boat in: 12:30pm – Return: 4pm
Following the release of her debut novel, Michelle McDonagh is joined by seasoned authors Catherine Kirwan and Tadhg Coakley in what promises to be a fascinating conversation and discussion with Cork author Michelle Dunne.
On arrival, visitors will enjoy a short guided tour to the fort with one of Spike Island's expert storytellers.
Reading event – Kitty Murphy & Queen Mia Gold
Kitty Murphy, acclaimed author of the Dublin Drag Mystery Series, will perform a reading of one of her intriguing novels followed by a very special performance by one of Cork's best-known drag queens, Portuguese-born Queen Mia Gold.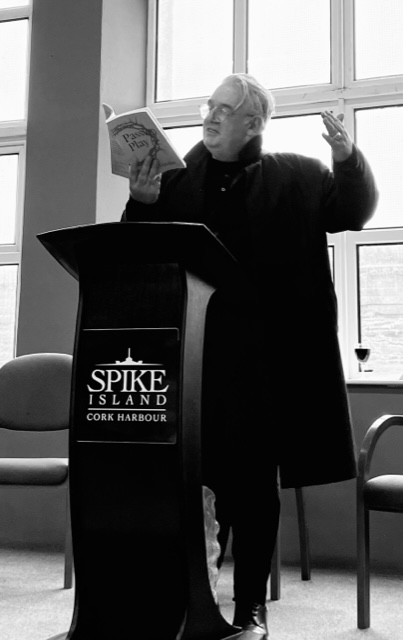 Pop Up Readings
Authors Alice Bell and Cónal Creedon will perform readings of their best-selling novels in unique locations on our historic island.
Meet the Agent Event
Looking for insider tips on getting your book published? In a rare opportunity, budding writers can meet with Nicky Lovick – Literary Agent with WGM Atlantic Talent & Literary Group on Sunday 20 August – to receive feedback and gain tips on how to make their work stand out from the crowd. Those interested in booking tickets for this event are invited to submit a synopsis and the first three chapters of their work on or before the 18th July to nicky.lovick@wgmatlanticgroup.com with "Spike Island Festival" in the subject line. In return they will get personalised feedback on the day as well as some written notes.
For booking details, please contact admin@spikeislandcork.ie
---
---
About the Artists
---
---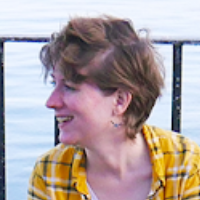 Alice Bell
Though Alice Bell grew up in the South West of England, she now lives in Cobh where, in addition to novel writing, she also works as deputy editor of Rock Paper Shotgun, a popular and respected PC Gaming website. In 2019 she was named one of the 100 most influential women in the UK games industry. Grave Expectations is her debut novel and was published in May 2023.
---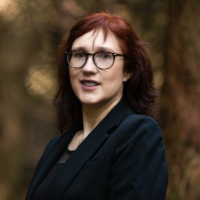 Sam Blake
Sam Blake is the No 1 bestselling author of the Cat Connolly Garda police trilogy (Bonnier), and thriller standalones Keep Your Eyes on Me and The Dark Room and Remember My Name (Corvus Books). Across her books she has been an Irish Times No 1 for 7 weeks, an Eason No 1 bestseller for 10 weeks, in the Irish top ten for 28 weeks and has outsold Graham Norton (briefly!) Both her first novel Little Bones and The Dark Room were shortlisted for Irish Crime Novel of the Year (2016 & 2021).
Originally from St. Albans in Hertfordshire, Sam has now lived at the foot of the Wicklow Mountains in Ireland for more years than she lived in the UK.
www.samblakebooks.com



---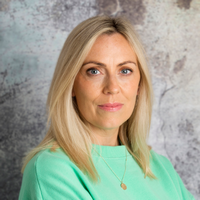 Amanda Cassidy
Amanda Cassidy is a freelance journalist, commissioning editor and former Sky News reporter. Shortlisted for the Irish Journalist of the Year Awards, and more recently the Headline Media writing awards, her features have clocked up over seven million readers. She's a frequent contributor to national radio, print and television and holds a BA in French and Italian from Trinity College Dublin. When she's not on a plane, you'll find her in her cottage in Dublin where she lives with her husband and three young children. Breaking is Amanda's first novel.
"The Returned", Amanda's second novel will be published in August.
---
Tadhg Coakley
Tadhg Coakley is from Mallow and lives in Cork city. His debut novel The First Sunday in September (2018) was shortlisted for the Mercier Press Fiction prize. Whatever It Takes was chosen as the 2020 Cork, One City One Book. Everything (a sports autobiography, which he co-wrote with its subject, Denis Coughlan) was picked as one of the 2020 sports books of the year in The Sunday Times, The Irish Examiner and The Irish Times. The Game: A Journey into the Heart of Sport (2022) was described by Donal Ryan as a 'towering work'. Tadhg's short stories, articles and essays have been widely published.
---
Cónal Creedon
Cónal Creedon is an award winning novelist, playwright and documentary filmmaker.
Cónal's recently published book, Art Imitating Life Imitating Death, was presented at the centre of Irish Studies at Zurich University, James Joyce Federation in 2020. It was subsequently published by Florence University Press. His collection of Award winning short stories Pancho and Lefty Ride Again (2021) has been Awarded One City One Book Award 2020. It holds the record of being the most borrowed adult fiction book at Cork City Libraries 2022.
His novel, Begotten Not Made (2018), has achieved literary award recognition: Winner of the Eric Hoffer Award USA 2020, The Bronze Award New Generation Book Award USA 2020; Finalist in the Montaigne [Most Thought-Provoking Book] Award USA 2020. Finalist The IAN Book of the Year Award 2022, Nominated for the Dublin International Book Award 2020; Book of the Year Irish Examiner; Top Books of the Year – Liveline RTÉ Irish National Radio.
www.conalcreedon.com



---
Amy Cronin
Amy Jordan Cronin is a writer from Cork, Ireland. She lives by the sea with her husband and young children in Cork, Ireland. A former tutor at Munster Technological University, she worked in the Irish civil service for a number of years before pursuing her passion for writing crime fiction. She has published two thrillers, Blinding Lies and Twisted Truth with Poolbeg Press. The Dark Hours will be published by Harper Collins HQ in September 2024.
---
Michelle Dunne
Michelle Dunne is a writer from Cobh who has used some of her own experiences in the Irish Army and as a UN Peacekeeper to write her debut thriller, the first in the Lindsey Ryan series, While Nobody Is Watching which is currently in development for television. Her follow-up book, The Invisible was published in April 2022.
Michelle's new thriller "GRACE" will be out in March 2024.
---
Catherine Ryan Howard
Catherine Ryan Howard is an award-winning, internationally bestselling author from Cork. Her lockdown thriller, 56 Days, was named a thriller of the year by the New York Times and the Washington Post, won the An Post Irish Crime Novel of the Year 2021 and is currently in development as a TV series with Atomic Monster/Amazon Studios. She has been shortlisted for the Mystery Writers of America Edgar Award for Best Novel and the CWA's John Creasey and Ian Fleming Daggers, and longlisted for the Dublin Literary Award 2023. She is published in 19 languages and a number of her titles have been optioned for screen. Her next thriller, The Trap, will publish in August.
---
Arlene Hunt
Arlene Hunt is an Irish author, film and book reviewer . She has written fifteen novels, the latest of which, While She Sleeps, was published by Hachette in August 2023 and she is currently working on new crime fiction book. A long distance runner, when not writing Arlene can usually be found half way up a mountain with two German Shepherds for company.
---
Catherine Kirwan
Catherine Kirwan grew up on a farm in the parish of Fews, County Waterford. She studied law at UCC and lives in Cork where she works as a solicitor. Her first novel, Darkest Truth, was chosen as Cork's One City One Book by Cork City Libraries in 2019. Her current book, Cruel Deeds, is out now from Hachette Ireland.
Find out more at Penguin Books


---
Andrea Mara
Andrea Mara is a Sunday Times and Irish Times Top Ten bestselling author, who has been shortlisted for a number of awards, including Irish Crime Novel of the Year at the An Post Book Awards in 2022, 2021 and 2018.
Her novel All Her Fault was Sunday Times Crime Book of the Month, a top ten bestseller in the UK and in Ireland, and a Kindle Top 5 bestseller. It has sold over 100,000 copies and has been optioned for TV.
Hide And Seek, published in 2022, charted in the Irish Times bestseller list for five weeks. Her newest book, No One Saw A Thing,was published by Transworld/ Penguin Random House in May 2023. She lives in Dublin, Ireland, with her husband and three children, and also runs multi-award-winning
parent and lifestyle blog, OfficeMum.ie


---
Michelle McDonagh
Michelle has over 25 years experience as a journalist. She writes freelance for The Irish Times and a number of other publications. In the course of her career, she's worked for all of the Irish national and tabloid papers covering news and courts, before switching solely to features and health, mainly for The Irish Times. Her debut novel There's Something I Have To Tell You was published by Hachette in April 2023.



---
Tom O'Neill
Tom O'Neill is from Midleton, Co. Cork.
His first book, 'The Battle of Clonmult', was published by Nonsuch in 2006.
He co-wrote his second book, 'The History of the 23 Infantry Battalion FCA, 1959 – 2005, with two fellow officers from the battalion. It was privately published in 2007.
Tom was a member of the team that produced the book, 'A Great Sacrifice', the definitive account of the Cork born individuals that lost their lives on military service, during the First World War. The book was published by Echo Publications (Cork) Ltd in 2010.
His book, 'The Battle of Clonmult' a revised edition, was published by The History Press in 2019.
His most recent book 'Spike Island's Republican Prisoners 1921' was published by The History Press in 2021.
Tom has been involved on Spike Island since 1989. He worked on Spike with the Irish Prison Service in a managerial role from 1989 – 2010. He was the liaison officer for the Prison Service in the lead up to the handover of the island to Cork County Council in 2010. He joined Cork County Council in 2011 and was very much involved in the planning and development of the island into a tourist attraction. He is in a managerial role on Spike Island since 2011.
---
Kitty Murphy
Kitty Murphy lives with her husband, Roger, on the very westerly edge of Co. Clare, Ireland. She adores drag in all its forms and crime fiction in all its chilling splendour. Kitty is bi/queer. From a well-spent youth divided equally between the library and the LGBTQ+ scene, it was only a matter of time until both worlds collided in a flurry of fictional sequins.
Death in Heels, the first book in the Dublin Drag Mystery Series was published by Thomas & Mercer in 2022. The sequel, Death in the Dark, was released in 2023.
---
Queen Mia Gold
The queen of all queens, Mia Gold has gotten wind of the fact that Drag Queens are being bumped off in Kitty Murphy's Dublin Drag Series (Death in Heels). Now she's coming to Spike Island to confront the situation and to find out for herself, what exactly is going on and more importantly, what's going to happen next!
---
John Spillane
John Spillane is a musician, songwriter, performer, recording artist, storyteller, poet and dreamer. Rooted in people, place and story, his music transports the listener and his live performances captivate audiences around the world.
After his acclaimed release of 100 Snow White Horses in 2021, in October 2022, John will released 'In Another Light' a career spanning album recorded live at the Right Here Right Now Festival recorded at Cork Opera House in November 2021.
---

---